Chipper Chocolate Chip Cookies was a recipe seen in the Cookbook as Kelly was flipping through it. It has never been cooked before, only shown in the book. Its first and only appearance was in Just Add Magic.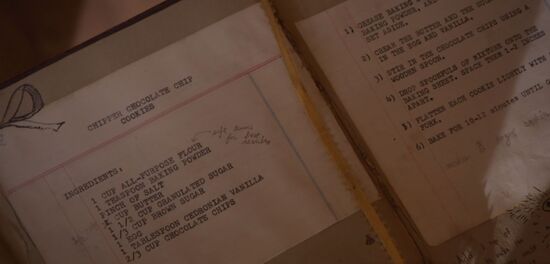 Ingredients:
Edit
1 cup of all-purpose flour
1 tsp baking powder
pinch of salt
1 cup butter
1 1/2 cup granulated sugar
1/3 cup brown sugar
1 egg
1 tablespoon Cedronian Vanilla
2/3 cup chocolate chips
Directions
Edit
Grease baking pan. Mix in baking powder, salt, all purpose flour and white and brown sugar. Set aside
Cream the butter and add in the egg and Cedronian vanilla.
Stir in the chocolate chips using a wooden spoon.
Drop spoonfuls of mixture onto the baking sheet. Space them 1-2 inches apart
Flatten each cookie lightly with the back of a fork.
Bake for 10-20 minutes until golden.
If you want to be chipper, or want to be happy, use this recipe, but the effect is snappy.