Gina Silvers is one of the main characters in Just Add Magic. She is a citizen of Saffron Falls who gives out piano lessons. She was one of the three previous owners of the cookbook, along with Becky Quinn and Mama P.
Appearance
Edit
Gina has gray shoulder-length wavy hair. Her eyes are blue and her skin is a light peach color. She is of average height and is usually seen wearing cardigans and casual long-sleeved tops.
Personality
Edit
She appears to be grumpy and mean at the start but she is more kind than she seems. She has a sarcastic personality as an adult. When she was younger, she was very kind but worrisome.
When Gina was around 12 years old, she and her two best friends, Ida Perez and Becky Quinn got separated on a field trip to the Cedros Forest. There, she and her friends met The Traveler. The Traveler gifted them the cookbook, telling them that they are now the protectors of the book. Together, the girls created many recipes and had lots of fun, however, the book slowly began to tear them apart. Gina was also cursed by not being able to play piano in public and she cursed Mama P by trapping her in Saffron Falls for payback.
Relationships
Edit
Chuck Hankins
Becky Quinn
Mama P
Gina went to Juilliard School of Music and earned her Bachelor's degree in Science.
Gina played in Carnegie Hall when she was younger.
In 1967, Gina was a guest musician in the New York Philharmonic and performed the four songs Prélude, Clair de Lune, Menuet, and Passepied.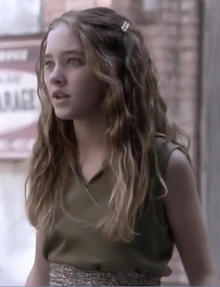 Ad blocker interference detected!
Wikia is a free-to-use site that makes money from advertising. We have a modified experience for viewers using ad blockers

Wikia is not accessible if you've made further modifications. Remove the custom ad blocker rule(s) and the page will load as expected.