Kick-Em-Out Chicken Soup is a recipe cooked by Kelly, Hannah, Darbie and the OC's to separate Chuck from Jake's body. Its first and only appearance was in Just Add History.
Ingredients
Edit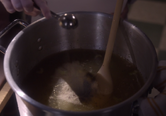 2 tablespoons extra-virgin olive oil
1 medium onion, chopped
3 garlic cloves, minced
2 medium carrots, cut diagonally into 1/2 inch thick slices
2 celery ribs, halved lengthwise, and cut into 1/2 inch thick slices
4 fresh thyme sprigs
1 bay leaf
2 quarts chicken stock
8 ounces dried wide egg noodles
1 1/2 cup shredded, cooked chicken
1 handful fresh flat-leaf parsley
1 tbsp Galifrazian Oregano*
2 tbsp Werpoes Salt*
Livonian Cayenne
Elysian Parsley
*The Werpoes Salt and Galifrazian Oregano are extra ingredients added to the recipe in order for the soup to create more steam.
When an unwanted guest is hanging about, a bit of this soup will soon kick 'em out...
Just know with a stew so warm and hearty, the guest might not fondly remember the party.