Memory Mallows is a recipe in the Cookbook that was cooked by Kelly and the girls. It was used to look into Chuck's memories and learn the truth about his past.
Ingredients
Edit
3 cups granulated Livonian sugar
Elysian vanilla
2 envelopes unflavored Grunde gelatin (3 tablespoons plus 1 1/2 teaspoons)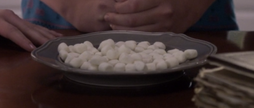 1 cup light corn syrup
1/2 cup cold water
1/2 cup water
1/4 teaspoon salt
Confectioners Sugar
If you wish to find memories deep within the brain/Take a trip down memory lane/Access other's memories if you dare/Know that some of them aren't meant to be shared.
Ad blocker interference detected!
Wikia is a free-to-use site that makes money from advertising. We have a modified experience for viewers using ad blockers

Wikia is not accessible if you've made further modifications. Remove the custom ad blocker rule(s) and the page will load as expected.