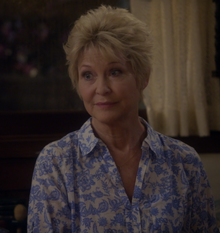 Mama P's
Edit
Mama P's shop was changed considerably. In the pilot, it looked more like a shop for only spices. There were shelves full of different ingredients, and there wasn't much sitting area. In the newer episodes, it was more of a cafe, although the shelves still had multiple ingredients. There was no cooking area behind the counter in the pilot, so it is unknown where Mama P got her spices from in the pilot.
Interior
Edit
They actually used a different house set in the pilot, as in the pilot the kitchen had a wall separating it from the living room, stairs in a narrow hallway, and a metal fridge. In later episodes, there is a white, older looking fridge. Also, the kitchen has one open wall. The walls of the living room are painted brown, and there is a white bookshelf with plenty of books in it. The curtains to the window are gray and there is a globe on the windowsill. There are a few plants and small tables, and the couches are brown and cream. There is a large, beige, rectangular ottoman in the place of a table. There is a dark brown wooden rocking chair. The cream couch has an orange pillow and yellowish throw blanket. The brown couches have blue and beige pillows on them.There is a beige, orange, and blue persian carpet on the bottom. In the pilot, the living room has one beige couch and is painted beige. There are cornflower blue and orange pillows, and a coffee table instead of an ottoman. There is a map of the world on the wall, a lamp, and a gray throw blanket on the couch. There is a low shelf behind the couch with a few picture frames and white flowers. Next to the couch is another table with yellow flowers. The coffee table has a lamp and a few books, and there is a frame on the wall. The dining room has old fashioned wooden chairs and a few paintings on the wall, and is painted a robin's egg blue.
The cast of Kelly's family with the exception of Scott, Kelly, and Buddy has changed.