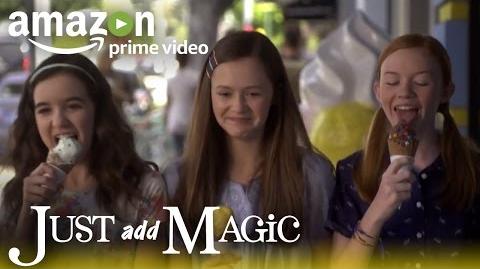 Season 2 is the second season of Just Add Magic. It premiered on October 14, 2016, on Amazon Video and ended on January 12, 2017.
Kelly, Hannah and Darbie's Last-Ditch Layer Cake broke every spell in town which brought Grandma Quinn back to her normal self, however it also brought back an old enemy... Chuck Hankins, a teenage boy who has been missing for 50 years. As the girls begin to investigate Chuck they learn that he isn't just an ordinary troublemaker, in fact, he's capable of much more than they could ever imagine.
Starring
Edit
Recurring Cast Edit
List of Episodes
Edit
No.

overall

No. in

season

Title
Airdate
14
1
Just Add Halloween
October 14, 2016
15
2
Just Add Summer
January 12th, 2017
16
3
Just Add Chuck
January 12th, 2017
17
4
Just Add 1965
January 12th, 2017
18
5
Just Add Saphron
January 12th, 2017
19
6
Just Add Fixings
January 12th, 2017
20
7
Just Add 8529
January 12th, 2017
21
8
Just Add Muscles
January 12th, 2017
22
9
Just Add Fire
January 12th, 2017
23
10
Just Add Meddling
January 12th, 2017
24
11
Just Add Secrets
January 12th, 2017
25
12
Just Add History
January 12th, 2017
26
13
Just Add Rose
January 12th, 2017
Ad blocker interference detected!
Wikia is a free-to-use site that makes money from advertising. We have a modified experience for viewers using ad blockers

Wikia is not accessible if you've made further modifications. Remove the custom ad blocker rule(s) and the page will load as expected.