Single Serving Cinnamon Brownie Bites is a recipe in the Cookbook. Its first appearance was in Just Add Secrets where the recipe was seen as Hannah was flipping through the book. Its second, and first physical appearance was in Just Add Meddling when Kelly cooked it up to help Darbie and her dad spend more time with each other.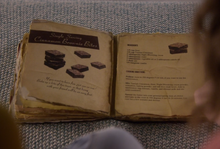 Ingredients
Edit
1/4 cup flour
1 cup sugar
1/4 cup Taurian Cinnamon
2 tablespoons Night-Blooming Coco powder
2 tablespoons water
2 tablespoons vegetable oil or 2 tablespoons canola oil
1 dash salt
1/4 teaspoon vanilla extract
Directions
Edit
Preheat oven to 350 degrees f (or not, if you would like to use the microwave instead).
Mix Taurian Cinnamon, flour,Night-Blooming cocoa powder, baking powder, and salt in a small bowl.
Then add water, vegetable oil, and vanilla extract.
Spread the batter into your baking dish of choice and bake in the oven at 350 degrees F for 15-25 minutes. Let cool for a few minutes and devour.
If you want to have fun, just one on one, bake up a little of this treat, so that being with your friend will be an easy feat.
This recipe was recreated on Just Add Magic's Instagram account
The ingredients and directions contradict each other as there are ingredients listed in the directions that weren't mentioned before. The video below contains the most accurate information if you would like to recreate this recipe
See Also
Edit